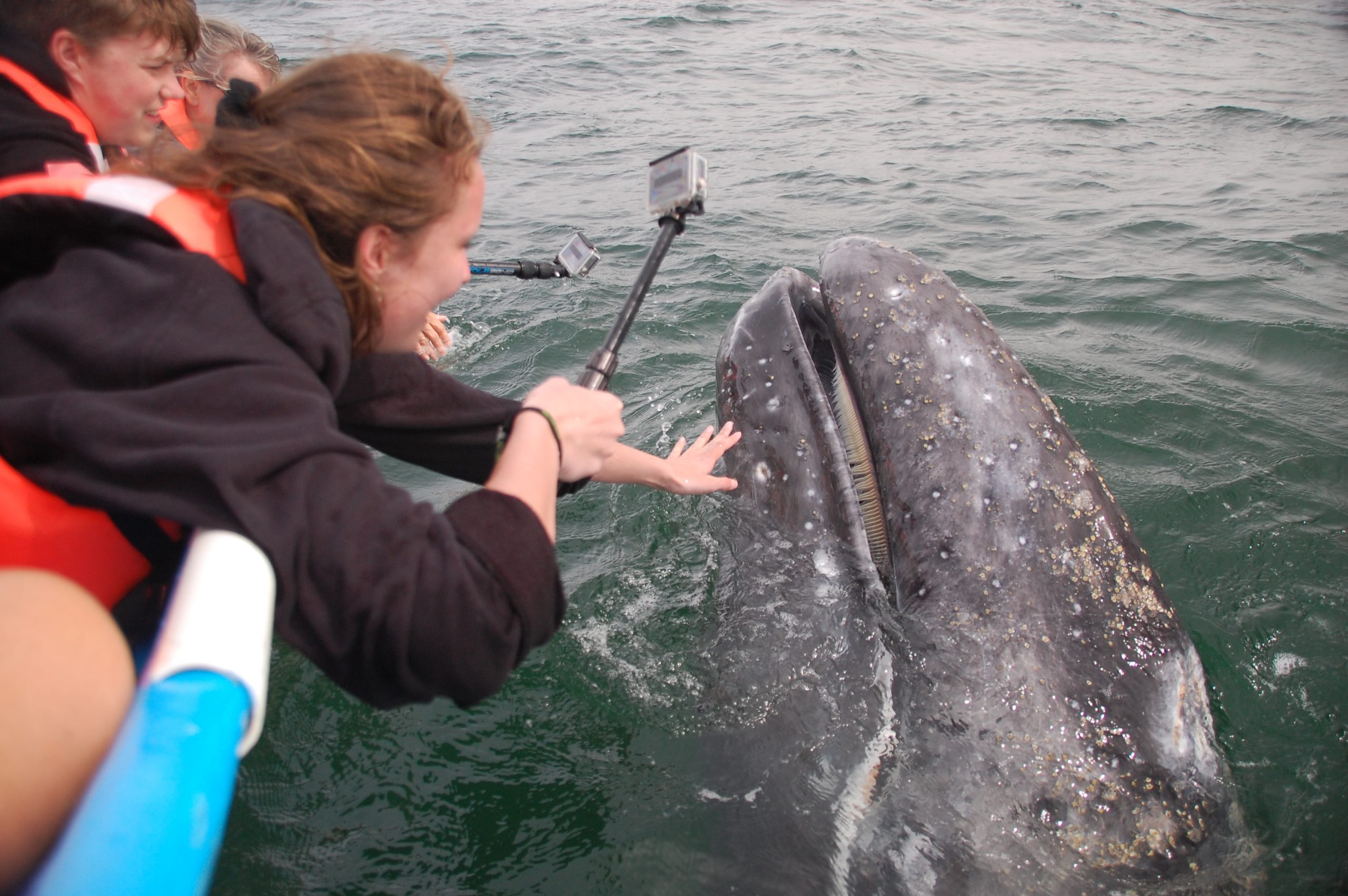 Grey Whales Watching
–  2 Day Tour
Join us for a 2 day Grey Whales watching tour to the sanctuary of Magdalena Bay, the most intimate whale watching tour in the world! This is one of the sheltered lagoons' in the Baja Peninsula where the inquisitive and friendly Grey Whales come to give birth and nurse their calves. By Mexican Law our whales are protected and have developed an incredible trust of humans, despite almost being
hunted to extinction
in the 1900s'. Sometimes they actually seek the attention of visitors as they approach the boats where they play and even come to be petted. They display a unique behavior here and close interactions with these gentle giants will stay in your dreams forever.
Puerto Lopez Mateos is our departure point into the Lagoon of Magdalena Bay, it's a nature lovers dream, not only for the incredible population of Grey Whales, but dolphins, coyotes, egrets, ospreys, pelicans and herons inhabit the lagoons and remote and uninhabited sand dune islands nearby.
We run tours during the high season from February until the end of March when the calves reach their highest activity and display their inquisitive natures. We'll take photographs and video both above and below the water and send them to you after the tour. Please
contact us
to arrange your unforgettable grey whale watching tour.
Included:
✓ Air-conditioned private road transport to/from Lopez Mateos
✓ Comfy accommodation (based on 2 sharing)
✓ Private boat and captain/guide
✓ Both lunches, dinner on day 1, breakfast day 2, water, soft drinks and beer
✓ Free photos and videos of your tour
✓ Duration 2 days – 3 hours whale watching per day
Grey Whale Tours
Shared Tour Adult $590
Shared Tour Children
under 8yrs $490
Private Tour 2 people $1900
Private Tour 4 people $2500
Private Tour 6 people $3500
Contact Us