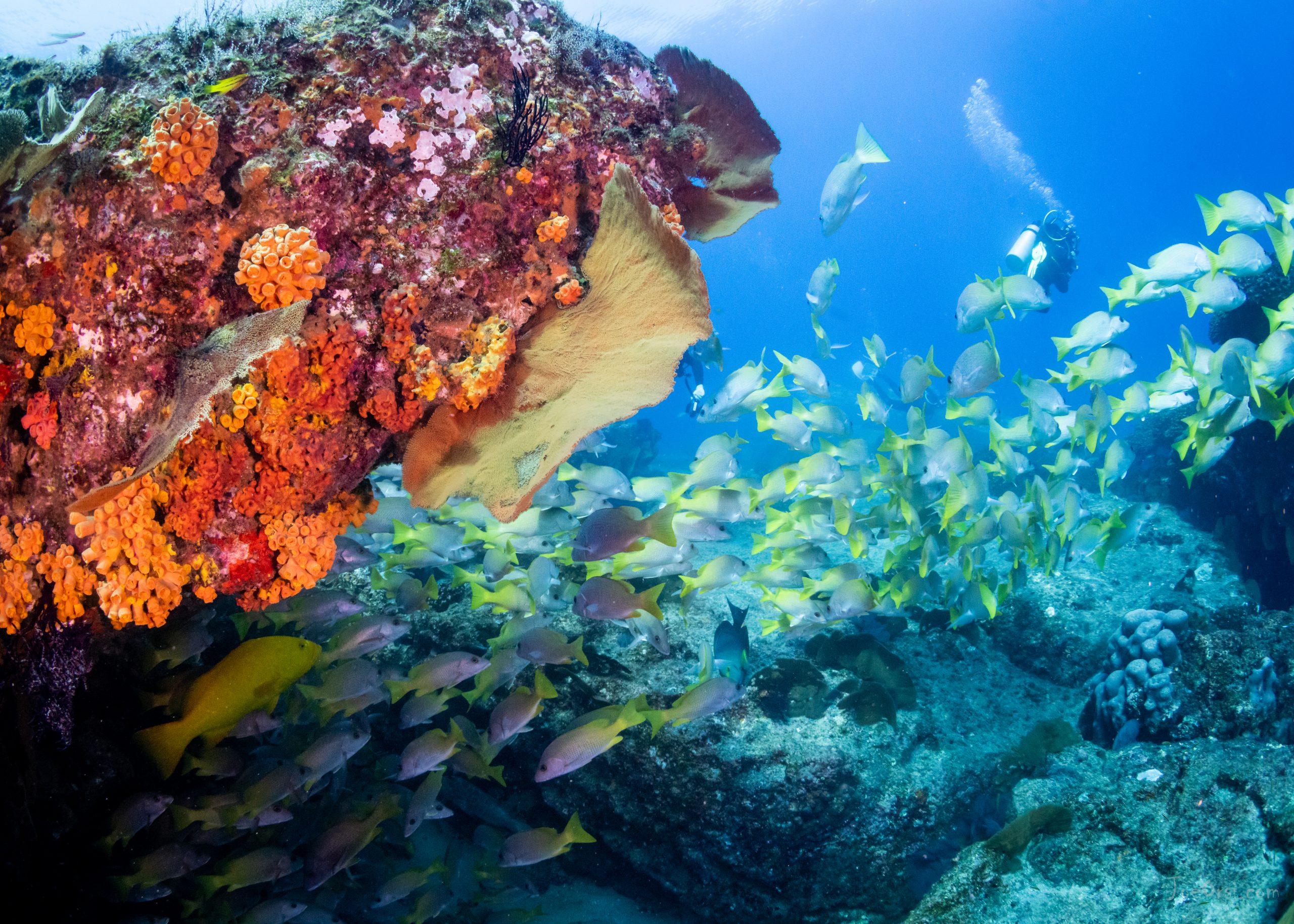 Cabo Pulmo – the dive sites
Discover the dive sites
Cabo Pulmo presents a daunting array of possibilities given that the park encompasses some 7,111 hectares (about 27.5 square miles), with eight fingers of hard coral reef. Thus, finding experienced guides like Adventures in Baja is highly recommended.
Adventures in Baja is certified for national parks like this one, and over the past eight years the company's owner and chief guide, Karen Bradfield, has become expert in leading private and small group tours at sites throughout Cabo Pulmo.
This familiarity with the park and its undersea attractions allows Adventures in Baja to work closely with divers to sketch out a dive plan based on factors like skill level, how much time they have to explore Cabo Pulmo, and the varieties of marine life they particularly want to see.  Are you like Karen and love sharks? Want to see dolphins? Sea turtles? Tropical fish?
For those already salivating at the chance to visit this undersea fantasia, here's a sneak peek at some of the things divers can expect to see at the park's premier dive sites:
El Vencedor ("The Winner")
Depth: 45 feet/14 meters
A perennial Cabo Pulmo scuba diving highlight, this site is named after a small cargo ship that sank here 35 years ago. Ruins remain scattered on the seabed and form a wonderful underwater haven for marine life. This site is famed for bull sharks and schooling snappers, but divers may also encounter dogtooth snapper, groupers, golden groupers, giant moray eels, amber jacks, and skipjacks, with many garden eels visible along the seafloor.
The Tornado of Big Eye Jacks
Big eye jacks congregate here en masse to reproduce, forming a massive tornado-like column in the water that is truly awe-inspiring to witness. The sheer numbers are a testament to the conservation efforts in the park, and have inspired more than a few wildlife photographers. Divers may also see dolphins following in search of a snack, or giant diamond rays lurking in the sand.

El Bajo ("The Low")
Depth: 30 to 60 feet/9 to 18 meters)
A reef bar that extends across the park with 12 of the 14 coral species in the world, this is a fantastic environment for spotting all manner of marine life, from colorful tropical fish and schools of groupers to large sea turtles and mobula rays.
El Cantil ("The Cliff")
Depth: 45 feet/15 meters
These north and south reef canyons are home to a rich diversity of marine life, the reef has deep canyons that act as great sheltering spots for the tropical fishes. White and black tip reef sharks are often seen here. Nurse sharks are also spotted here.

Meros ("Groupers")
Depth: 30 to 60 feet/9 to 18 meters
This reef bar is situated at the most northerly point of the park and is distinguished by meandering coral and rock formations. Due to its position, transiting whale sharks and mobula rays are oft sighted here, as are sea turtles and tropical fish. During winter months, divers are treated to an undersea symphony: the songs of humpback whales.
El Cien and Esperanza ("The Hundred" and "Hope")
Depth: 100 feet/30 meters
These deeper reef bars are for advanced certified divers only, but those with the requisite experience will be treated to a wealth of pelagic fish here, highlighted by numerous types of sharks (bull, sand, tiger and nurse, to name but a few). Schooling tuna and bigeye trevally often cruise overhead, and sightings of turtles, mobula rays and colorful tropical fish are likewise common.

Los Islotes ("The Islets")
Depth: 60 feet/18 meters
This seamount is at the south of the park and rich with coral and an array of waving sea fans. The site drops dramatically to a sandy seabed where large boulders create hiding places for tropical fish and moray eels.
These sites offer amazing diving experiences on a year-round basis, but it should be pointed out that peak conditions for "diving in Cabo Pulmo" are between the months of July and January, when water temperatures are at their warmest and visibility is at its highest.
  Cabo Pulmo National Park is a marine "hope spot" and due to the incredible conservation efforts has become a global dive destination, the success of this park was due to the local community making a sustainable choice and commiting to conservation.
Come and dive with us to explore this wonderful park.